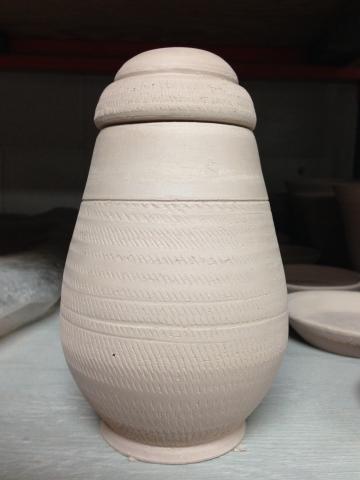 The truth is, I haven't stopped taking pottery classes yet. I'm now about half way through my third 8-week session and already working out my schedule to allow for more. I am able to get to the studio on Tuesdays and Saturdays to spend between 6 and 8 hours a week with this new obsession. Yes, I would spend more time at it if I could.
Adding pottery to my weekly routine has had a profound impact on me. My depression has dropped a notch, I have more energy, and it's given me a bit of a kickstart with my writing. While I'm not yet as good about meeting my schedule time for writing as I am for pottery, most weeks, I do make that appointment with myself at least once, so I am making headway on that front as well. There is nothing like a small success to keep me on track, and a good session of writing, like pottery, will make me positively giddy. One would think with all the beneficial effects, it would be hard not to do these activities. But the day job, bills and the rest are a mighty opponent to soul-satisfaction.
And of course, the best part of all of this is that the day job is getting better, not worse. With tighter constraints on my time, I have to be more focused and productive. And so I am. My next task is to add regular exercise into the mix. With writing, fun (pottery) and exercise, I should be a complete, happy, productive person.